Why We Should Re-Elect Supreme Court Justice David Medina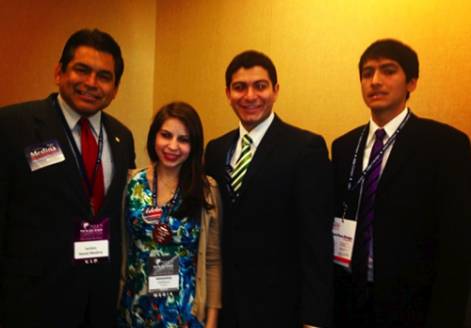 Texas Supreme Justice David Medina, TGV bloggers Danielle Chavez and Fernando Trevino, and convention delegate Frankie Trevino
I had the pleasure of meeting Texas Supreme Court Justice David Medina at the state party convention earlier this month. After speaking with him, it is very clear he will receive my vote in the July 31st run-off election.
Justice Medina's endorsements from some of our party's most conservative leaders, such as Sen. Dan Patrick and Land Commissioner Jerry Patterson, and pro-life organizations Texas Right to Life and Texas Alliance for Life prove he is the right choice for the Republican voter.
As a strident defender of the 2nd Amendment and an advocate for property rights, Justice Medina understands what is most important to Texans: our guns and our land. However, Medina understands the role of the Supreme Court, knowing his responsibility is to interpret the law and not to write it.
Justice Medina is a supporter of the Texas College Republicans and has also been involved in Hispanic Republican organizations, understanding that these are two large demographics to which the party must extend its reach.
In addition to his indisputable conservative views, Medina is a member of the United States Martial Arts Hall of Fame, proving he can not only talk the talk, but also walk the walk.
I encourage all Texas Republican voters to cast their ballots for Justice David Medina in the July 31st run-off.