Live Blog: March For America, Immigration Reform Rally, Sunday 3-21 in Washington, D.C.
11:00 (EST): A sunny day in Washington, DC today. There are 50,000 people expected to attend the March for America at the National Mall today.
1:30 (EST): Thousands of marchers from across the United States ascend upon the National Mall for today's march.
1:53 (EST): Geraldo Rivera takes the stage and discusses a murder in New York where some young men killed an immigrant. This was a hate crime that the youths called "beaner jumping". He says we need reform so we can end the less than humane treatment of the Latino community.
2:09 (EST): The first speaker takes the stage. She tells the crowd, "we are the workforce - in all sectors."
2:24 (EST): Singing of the Star Spangled Banner followed by the Pledge of Allegience is led by a group of Maryland school children followed by an invocation.
2:39 (EST): The March for America has announced their 5 demands:
1. Good legislation
2. Presidential leadership
3. Bipartisian leadership
4. Congressional action
5. Protect families
3:07 (EST): With tens of thousands of marchers already on the mall, hundreds more are still arriving in preparation for the march.
4:45 (EST): Massive crowd assembling for immigration reform- people of all different ethnicities. Republicans cannot ignore this if they want to stay relevant.
4:49 (EST): A speaker just announced that there are an estimated 500,000 people here for March For America!
5:05 (EST): Marchers explain this is a yymbol of a mother separated from her children.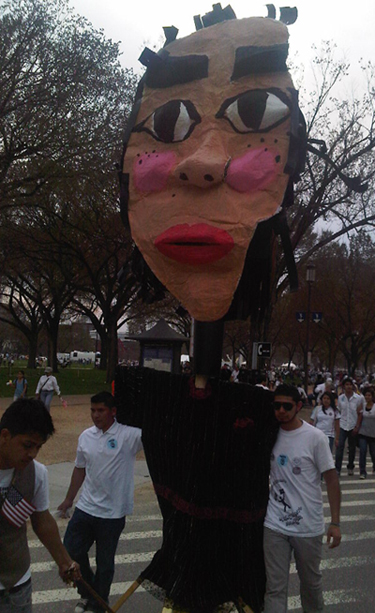 More and more protesters keep pouring in.
"No more O bla bla bla ma! Take Action or you can lose our support!"
Text "Justice" to 6986
Conservative Latino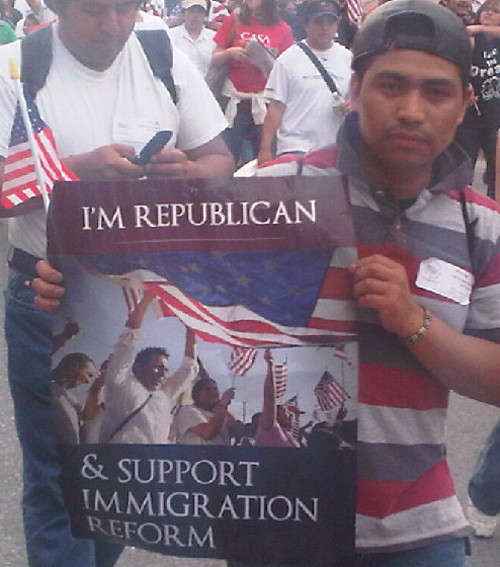 5:51 (EST): The amount of people here is unbelievable! The streets are being overrun, and the traffic is blocked. The Republicans will be doomed if they do not help find a sensible solution to immigration.
5:54 (EST): The groups are many and diverse, some are loosely organized coalitions.
6:09 (EST): Marchers stop in front of Capitol buiding.
The Call to action - the next steps to be taken by today's marchers:
"You said 'Yes We Can'"
Street sign at the Capitol "Left Wing Only"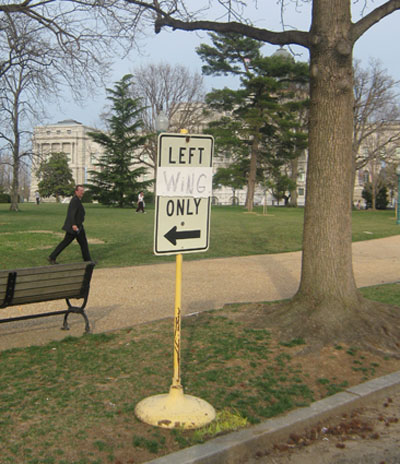 Crowd marching past the Capitol.