Newt Gingrich and Immigration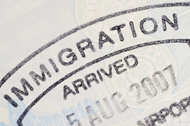 Immigration has now come front and center in the Republican primaries. One idea promoted recently has been the Red Card Solution, proposed by Helen Krieble and promoted by Michael Reagan. The Red Card Solution is not a solution to immigration but a first step toward a guest worker program and is connected to Newt Gingrich's own ideas on immigration reform in general. Under the Red Card Solution, illegal immigrants would be required to leave before being allowed to apply for a job, but Gingrich argued for a humane approach to dealing with those who are here illegally, in particular those with families and have been here for a long time.
Illegal immigration, to quote Herman Cain, is not just one problem but several. Since the 1986 amnesty law, immigration goals have been confused and contradictory. In 1986, the Reagan administration's goal was to establish border security while giving amnesty to those here and setting up stricter worker verification. The border security and worker verification went by the wayside and there was no real guest worker program. The latter being important since it would be giving immigrants options either to apply for citizenship or simply be a temporary worker and allowing a worker go back home after the money was made.
The Red Card solution has been supported by many conservatives including Mike Pence, who was considered a leading conservative presidential candidate before choosing not to run. Helen Krieble has attempted to separate her Red Card Solution from immigration as she noted once, it is about a guest worker program. Alfonso Aguilar, executive director of Latino Partnership for Conservative Principles noted, "This is a creative, conservative, free-market proposal on immigration, and I think Speaker Gingrich is right in embracing it. I think that the debate sometimes is oversimplified — this is something Speaker Gingrich has said before as well. We're kind of, as conservatives, forced to choose between 'open borders' and 'deport everyone.' Those two are unrealistic alternatives. As conservatives, we're for the rule of the law, but we're also for the free market."
Immigrants come to America to seek opportunity and there are jobs not being filled, even in a recessionary time, but the Red Card Solution does have its detractors. Mark Krikorian of the restrictionist Center for Immigration Studies views this not as a credible solution as he added, "Temporary worker programs never work…They always lead to high levels of permanent immigration." Krikorian added, "When cheap labor is available, agricultural companies rely on that rather than purchase or develop technologies to get the work done more efficiently." This leads to a debate within the Republican Party on how to approach immigration and how to approach to Hispanic voters. The problem with immigration is that Americans are confused including many Republicans and conservatives. Many Republicans support legal immigration while securing the border; they are of mix mind of how to deal with those living here. In one poll, 56 percent of Republicans supported a program that secures the border and sets up a temporary worker program. Aguilar noted, that "Republicans need to consider the impact of their immigration positions and rhetoric in the general election and the problem with a negative narrative on immigration is that if you become the nominee, then you're going to have a hard time getting enough Latino voter support to win the election."
Many Hispanics, like most Americans, want jobs and opportunities but many Hispanics view immigration in a more personal matter. The key to obtaining a larger share of the Hispanic vote is to find the right rhetoric and policy that emphasizes free markets on one hand and the rule of law on the other. Not an easy task but one that needs to be done since in many states like Florida, New Mexico, Colorado, Arizona and Nevada; Hispanics are the key demographics that will determine if the Southwest and Florida goes red or blue plus determine who controls the Senate since many of these states have Senate seats up for grab.
As one pundit noted, Gingrich expressed the Rick Perry position better than Perry, and while Gingrich is not supporting a comprehensive approach to immigration, he is supporting a more flexible, and what some will call a more liberal position, than what Romney or Bachman is supporting.
In the end, the real issue is not just about how to reform immigration. There will also be a debate about whether there will even be legal immigration. The two sides of the legal immigration debate can be seen through the eyes of Dick Morris and Mark Krikorian. Krikorian is not just for a tough stance against illegal immigration, but he is for the restriction of legal immigration, whereas Dick Morris is for increased legal immigration after the border is secure. The real debate will be on the nature of legal immigration and whether Republicans support the free movement of people across borders as part of a legal arrangement that protects American interest and security or whether they will support policy that restricts immigration as a longer strategy to restrict population growth period. Population control is the Elephant in the room that has to be confronted.
---
Related Content:
Newt Gingrich Provokes Routine Immigration Clamor - A Fuller Discussion?
Taking the "Heat": Gingrich Touches on the Moral Compass of America