Congressman Brady Named 2022 Texan of the Year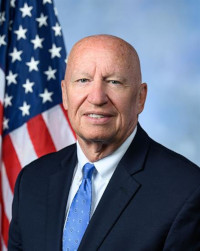 I have been named the 2022 Texan of the Year by the Texas Legislative Conference, the well-known annual statewide policy and business forum marking its 56th year. I was recognized for my tireless efforts as a national economic leader and my historic work as only the third Texan in history to chair the House Ways and Means Committee.
I accepted the honor during the 56th annual Texas Legislative Conference hosted by the New Braunfels Chamber of Commerce. "Thank you very much for this wonderful honor... After 26 years, I leave Congress the same way I entered – optimistic," I said. "I am proud of the work done by the Ways and Means Committee. We redesigned the tax code for growth. Millions of Americans could see opportunity they hadn't seen before. Businesses could grow, creating millions of jobs, and increasing wages for millions of Americans."
"As a former chamber executive and distinguished member of the United States House of Representatives, Congressman Brady is extraordinarily deserving of this honor," said Conference Chair Patrick Rose of Corridor Title. "Texas benefits from a history of Ways and Means Committee stewardship, and a 55-year legacy of leadership on the committee that started with former President George H.W. Bush and continued with Bill Archer and now Kevin Brady."
In accepting this honor, I joined an array of prominent past honorees including presidents, U.S. senators, governors and other Texas legends—several of whom I have had the privilege of calling friends and mentors.
The Texas Legislative Conference is a nonpartisan organization of Texas business and political leaders who meet annually in New Braunfels to focus on public policy issues. This year's panels focused on the supply chain, workforce and job creation, the Texas primaries and redistricting.