Cornyn: Disaster Relief, Addressing DACA Among Priorities in New Year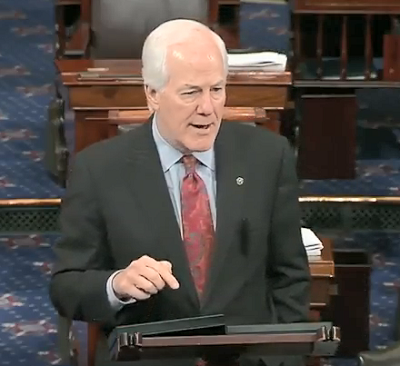 Yesterday on the Senate floor, I discussed the Senate's legislative priorities as the new year begins. Excerpts of my remarks are below, and video of my remarks can be found here.  
Tax reform is changing the economic landscape.  Paychecks are growing, and job creators are responding in all sorts of positive ways, and I think that's a terrific way for us to begin 2018.
Over the next few weeks we have a very, very full plate. First and foremost is funding the federal government and avoiding a shutdown come January 19 when our stopgap continuing resolution expires. It's crucial that both sides come together to ensure that critical government functions are not held hostage to other demands.
I commend the House for passing the $81 billion disaster relief package last month...In the coming weeks I'm going to continue to work with my colleagues to ensure that Texans whose homes, schools, roads, and workplaces were affected by the storm receive the help they deserve and so desperately need.
I am confident that both sides can come to an agreement regarding the legal status of this roughly 800,000 individuals who were brought to the country illegally while they were still quite young, and that includes 124,000 DACA recipients in my state of Texas alone.
Many of these individuals make valuable contributions and should not be penalized for decisions made by their parents - the legal ramifications of which they could not at such a young age fully understand or consent to. But any such agreement must include corresponding measures regarding enforcement of our immigration laws.