Cornyn: Tax Reform Would Cap a Successful Year for the Senate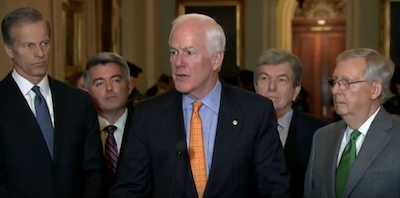 Recently at a press conference, I discussed the importance of passing tax reform to round out a successful year for the Senate. Excerpts of my remarks are below, and video of my remarks can be found here. 
I'm hopeful by the end of the year we'll be able to say that we did three major things. One is we've confirmed a Supreme Court justice and a historic number of federal court nominees. We have reformed the nation's tax code to make it simpler, more pro-growth and given all Americans a tax cut. And we have rolled back the regulatory overreach of the previous administration that was like a wet blanket on our economy.
I think by delivering tax cuts and tax relief by the end of this month we'll see this economy take off and will benefit all Americans all across this great land.