Federal money can help build a stronger, more resilient Houston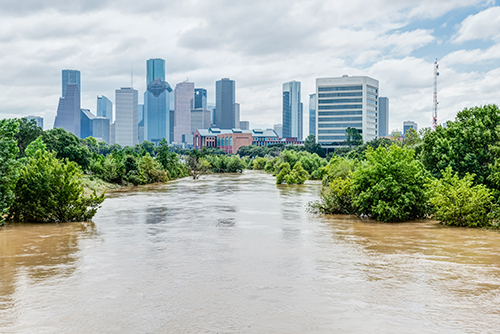 One year ago, Houston came to a standstill. Hurricane Harvey made landfall on the Texas coast on August 25 and, over the days that followed, proceeded to dump record amounts of rain on our city, county and region. The devastating floods that followed that rain have become synonymous with Harvey.  
While Houston was experiencing its worst, we saw the best of our Texan spirit. The nation saw our neighborhoods, communities, city, county and state band together to lend each other a helping hand. Whether it was a boat, food, shelter, clothing, or a simply a hug or shoulder to cry on, Houstonians and Texans were there for each other. 
As the members of Congress representing the Houston region, we went back to Washington committed to get relief for you – our neighbors and constituents. By remaining united and working with our colleagues from other states and territories that experienced devastating storms, we secured a package of bills to provide $141 billion for the victims of last year's hurricanes, a large portion of which is headed to Texas. In fact, we wrote the bills in such a way that it put Houston at the front of the line for much of these federal funds. 
Recovery from a storm like Harvey is a long and complex process. It requires coordination at all levels of government to take a multi-pronged approach that addresses the immediate and long-term needs. The funding package we helped secure provides money for short-term needs, like housing, home repair grants, and rental assistance. It also included enough money for the National Flood Insurance Program to meet all claims filed as a result of the 2017 hurricane season. The funding package also addresses long-term projects that will make our region more resilient to flooding in the future, including funding for a comprehensive study of Buffalo Bayou and Tributaries a regional study of our watersheds.  
We are already seeing the money, for long-term recovery and projects to rebuild a stronger, more resilient city, flow into southeast Texas. The city, county and state have developed action plans for over $5 billion in Community Development Block Grant – Disaster Recovery funds that will help individuals rebuild. In July, the Army Corps of Engineers also announced federal funding for long-term investment in flood control infrastructure from the hurricane relief bill packages. Texas is receiving nearly $5 billion, and there is enough to finish every federally authorized flood-control project in Harris County at full federal expense. That means the completion of projects on Brays Bayou, Clear Creek, Hunting Bayou and White Oak Bayou will be expedited. The second phase of construction on the Greens Bayou Flood Risk Management Project is also proceeding, with completion expected in 2020.
The Army Corps of Engineers also announced studies that will investigate potential flood-control projects, which is the first step in further strengthening and expanding our flood-prevention infrastructure.
Preventing flooding has always been a high priority for us as the federal policymakers for Houston; however, it took on new urgency after Hurricane Harvey, because it created a distinct line of separation: before Harvey and after Harvey. 
We live along the Gulf Coast, on land that is as flat as a pool table, and the reality is we will experience future storms. While we cannot completely eliminate the potential of future flooding, we can work together on solutions to mitigate the risk as much as possible.
While we can all hope and pray that Harvey was a once-in-a-lifetime storm, we must think critically about the future of our flood-control systems and infrastructure to better protect families, homes and businesses.
As your representatives in the federal government, we are in constant contact with our state, regional and local officials to find solutions that will strengthen our flood-control network. Houston came together during the storm, and it will require us to remain united in order to become more resilient to future storms.
Originally Published in the Houston Business Journal