Congressman Pat Fallon Travels to Eastern Europe to Learn About the Conflict in Ukraine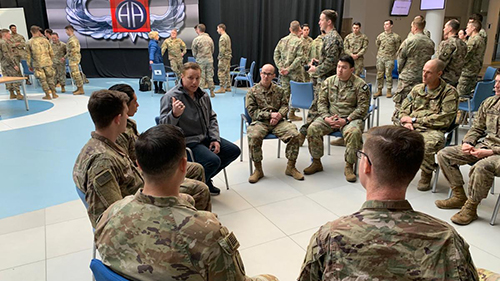 Last week, I joined six of my colleagues on a bipartisan congressional delegation (CODEL) to Eastern Europe. We traveled to the region to observe the humanitarian crisis being created by Vladimir Putin's invasion of Ukraine. Specifically, we visited Poland, Romania, and Moldova. 
In Poland, I met with officials at the U.S. Embassy in Warsaw, toured the Torwar Refugee Assistance Center, met with servicemembers of the 82nd Airborne Division, and traveled to the Przemsyl Train Station near the Polish border with Ukraine to meet with Ukrainian Refugees. 
In Romania, we met with Prime Minister Nicolae Ionel Ciucă and Minister of Internal Affairs Lucian Bode, visited with U.S. and NATO forces, and traveled to Romania's shared border with Ukraine. 
In Moldova, Congressman we met with Prime Minster Natalia Gavrilița and visited the Palanca border crossing point. 
I was joined on this trip by: Reps. Stephen F. Lynch (MA-8), Chellie Pingree (ME-1), Lori Trahan (MA-3), Mark Green (TN-7), Jake LaTurner (KS-2), and Nancy Mace (SC-1).
Our trip to Eastern Europe was not only informative, but eye-opening. The stories we heard and people we met will leave a lasting impression on all of us. We as Americans must do everything in our power to support the Ukrainian people and our NATO allies in their struggle for freedom. For they are not only fighting for their liberty, but for the very survival of their own nation. 
I am proud to be a part of this group of members and look forward to seeing what Congress can do to assist Ukraine in the coming weeks and months.