Cornyn Helps Break Ground on New San Antonio Courthouse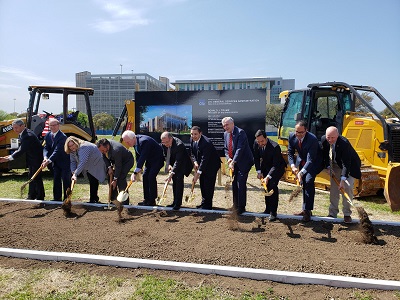 Yesterday I delivered remarks at the groundbreaking for a new San Antonio federal courthouse, along with other members of the Texas and San Antonio delegations. Excerpts of my remarks are below.
My memory of the San Antonio delegation coming to us to ask me and ask the entire Texas delegation to help with this effort is very clear in my mind.
We didn't have to move just one mountain, we had to move a mountain range in order to get this done.
Senator Boozman and I toured the courthouse of Judge Brooks Smith, who led the committee that ranks the courthouse construction priorities. During that visit, together with many of the local officials here today, we were able to lay the groundwork that ultimately led the way to today's ceremony.
Of course, getting through the Senate is only half the battle; it has to pass the House as well.
But Henry [Cuellar] was a guy on the Appropriations Committee, he had the checkbook, and he's had firsthand experience in moving mountains. And I can't think of a tougher advocate for San Antonio than Will [Hurd], and they made that happen together with all of us working with the entire Texas delegation in the Senate and the House.
Today's groundbreaking not only represents the start of a new courthouse but the start of a legacy of safety, community, and justice for generations. As we watch this facility rise from the ground up, let it serve as a reminder to all of us that with a little bipartisanship and a lot of perseverance, we can move mountains for the people of San Antonio.
I championed securing the new courthouse and held a series of critical meetings to ensure it remained a priority among policymakers. This included hosting Sen. John Boozman (R-AR), Chairman of the key Appropriations Subcommittee in the Senate, and Judge D. Brooks Smith, who chaired the Courts Committee that determines courthouse construction priority, in San Antonio in November 2015 for a tour of the current federal courthouse. I also worked closely with former Mayor Ivy Taylor, former City Councilman Joe Krier, and other Members of Congress and San Antonio leaders to advocate for a new courthouse. I secured the funding for the new federal courthouse in San Antonio in December 2015.