National Constable of the Year, Ron Hickman to Address Human Trafficking in Harris County with TTPRW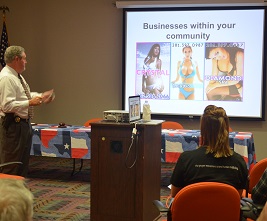 Harris County Precinct 4 Constable Ron Hickman will speak to the Texas Tea Party Republican Women's Club (TTPRW) tomorrow night about the huge problem of human trafficking and sexual slavery that is rampant in the Houston Area. Many have called Houston the nation's capital in human trafficking.
Hickman, who was recently recognized as Constable of the Year by the National Constables' and Marshall's Association during their annual meeting in Sugar Land, Texas, will present his department's techniques of using regulatory inspections to attack the massage parlor industry that seems to be popping up all over the county like weeds in the springtime. This was Hickman's second time to be recognized for this award and he was also named Texas Constable of the Year in 2006.
Citing the difficulty of making prostitution busts in these locations, Hickman's team focuses on the state regulatory requirements that are in place to protect consumers from a health and safety perspective. Any facility that advertises any kind of "massage" services must have properly licensed massage therapists.  Most of the kinds of places that pop up quickly, do not have proper training and licensing.
Hickman is creative in the use of technoloy surveilance techniques such as monitoring popular sites offering illicit sexual servies under the guise of massage parlors, nail salons and day spas. They routinely monitor Craigslist and Backpage.com in addition to other sites where customers actually review the "spas" and their "therapists".
The TTPRW is holding a special meeting this month to feature Hickman's work in cracking down on human trafficking in his precinct. The meeting will be held on Tuesday, May 14th beginning at 6:30 p.m. It will be held away from their normal meeting location because of expected turnout numbers. Cy-Fair Christian Church, located at 9730 Grant Road will host the meeting. There is a $3 charge for admission and dinner is $18. To RSVP, please text Norma Jeter at 281-414-4234 with names and choice of meal or attendance only.
Last year I had the opportunity to ride along with Hickman on a massage parlor raid. The conditions these women are living in was shocking as you can see in the photos. They pack the women (and often underage girls) into tiny rooms where the all sleep on mattresses.
Human trafficking in an ugly stain on a beautiful city of Houston. Many elected officials turn a blind eye to this horrible crime because we, the residents of this city and county, do not make an issue about it. Is it because we don't know about it, or is it just too hard to talk about?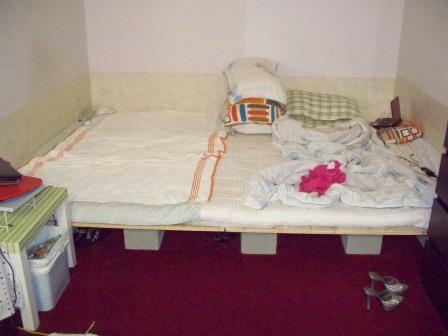 Sleeping for six women
Human trafficking in Harris County is more than just the sex industry. It is also rampant in construction and in Houston area restaurants. One local Mexican-food chain is rumored to have funded its rapid expansion through the abuses of human trafficking. This was confirmed by in inquiry to contacts with Homeland Security here in Houston who are conducting an on-going investigation.
Fellow TexasGOPVote blogger, Brandon Darby has also been highly involved in rooting out human trafficking in Houston and exposed how the FBI as covered up many reported cases of human trafficking even when underage girls are involved.
We should be ashamed, as a community, about this blight on our reputation. But we should also be more outraged that this is happening, and happening so frequently in our county. The TTPRW meeting is a great opportunity to learn more about this problem so you can hold your elected officials, like County Attorney Vince Ryan and Sheriff Adrian Garcia, accountable. Constable Hickman has shown great leadership on this issue in addition to his work on child pornography. Come out and support this outstanding law enforcement official!