Paleoconservative Delusion And Upgrading The Immigration Debate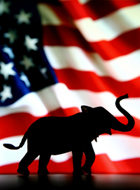 On Thursday and Friday, discussing Lou Dobbs' departure from CNN, quite predictably, the standard Republican immigration debate broke out on this site, complete with suspicions about conservative credentials and cautions about discrimination and political impracticality. Sigh. This is really childish sandbox fighting and we should really aspire to more elevated endeavors. I'm not saying that people don't sincerely mean well. But, these are visceral reactions and not clear perspectives about human realities. I'd like to think that it isn't entirely unfeasible that the discussion and thinking might be lifted above the level of the typical Internet food fight.
In the first place, as one whose comment might have landed me in the "not-conservative-enough" category, I feel I need to define myself. I've been what I consider to be a rigorous philosophical conservative for all of my life. But, I long ago began distinguishing between philosophical and sentimental conservatives. Mine isn't a conservatism of reactive feelings, but one of a consistent system of clearly consistent ideas. But more important than my own reputation, is the popular perception of conservative and Republican ideals and how they are presented and understood.
We've had some discussion at Texas GOP Vote of the immigration issue and the Republican relationship with Hispanic Americans. For one thing, many legal Hispanic immigrants are also very dissatisfied with government's indulgence of illegal immigration. I have spoken with them. Hispanics are not an ideological monolith, and it's simplistic and demeaning to think that they are. However, any of them can be deterred by actual or perceived animosity to a supposedly "alien" population. Admittedly with a generous assist from popular American media, Republicans have long lost almost all of the votes of blacks, despite the fact that most blacks are more sentimentally empathetic with conservative values than the average American in general. And that is similarly true with Hispanics. We shared a definition of "paleoconservatives" as generally holding to a European heritage that supposes that that heritage is uniquely able to assimilate American values. Horse hockey! In the first place, HELLLOOOO! Perhaps you haven't noticed the kind of thinking that has dominated European nations over the past century. Have you not heard the fretting of American conservatives that Obama and Congressional Democrats are steering America toward European-style socialism? America is not the ultimate evolution of European culture. America broke away from European culture. Monsieur Perrault is not advocating for the lessons of the French.
The ideals of human integrity, freedom and equality under the law are not the bestowal of European culture. They are the endowment of the creator! And all men are competent to understand, appreciate, and embrace them: more so those from feudal and despotic lands than from fainthearted, socialism-tainted European realms. I think Pat Buchanan is a decent enough guy and I like him. But, I've never been a supporter of him or his paleoconservative proclivities. In an immigration discussion now many years ago when he was still sojourning as a Republican presidential candidate, Pat asked, "Which do you think we could assimilate better, a million Mexicans or a million Europeans?" He didn't even answer, assuming that the obvious answer was the Europeans, which even then struck me as a passing peculiar assumption from a conservative.
In fact, we now have those millions of Mexicans. And even if…probably especially if they included some academically corrupted eggheads, if they had been Europeans, they would have demanded a lot more in favors and vacation days, and invested a lot less in effort. Although we are a decade or two behind them (in fact, most Europeans are making corrective efforts in our direction while we plunge in theirs), even in the USA, our biggest menace is not the Hispanics over our southern border, but Americans within who have stewed in the kind of liberalism that dominates our popular culture and educational institutions. The famous wall or fence that some want constructed on our southern border, besides being an ugly and foreboding eyesore, would seal industrious people of a largely Christian background out and lock spoiled, somewhat secularized, Western potential socialists in. I also think he's a decent, well-meaning guy, but the most grotesque moment of the 2008 Republican primary campaign was when Tom Tancredo even proposed a temporary moratorium on legal Hispanic immigration! Bless his poor pathetic heart!
Listen, I'm not for a minute saying that massive illegal immigration is a good thing. It's true that illegal immigrants strain our already inadequate facilities and services. American immigration should be orderly and legal, with dangerous and parasitic elements sorted out. But, taking advantage of free stuff, including unhindered passage into the country, is not specifically what Mexicans do. It's what human beings do. Witness Cash for Clunkers. Liberals extolled the success in an amazing discovery: If you offer people free money, they'll actually take it! This is the brainchild of a host of liberal geniuses!
I have a couple of overriding points to make in closing. First, Europe is about to be overrun by a Muslim population and its values. Here again, we are some years behind but inclining in the same direction. With a great assist from abortion, European-American and African-American birthrates are dwindling while the Muslim birthrate is expanding. Only one other ethnic group has a healthy birthrate: Hispanics. And they are largely of a Catholic heritage and understand the value of what is no longer fresh to many Americans: freedom and equality under the law. Hispanics are probably America's best hope of (and) reviving the original American ideal, which our current government is abandoning. Conservatives should be organizing English instruction, job fairs, and American history classes. If conservatives can't sell their values to Hispanics, they might as well give up and roll over and die.
Secondly, it's a legitimate problem, but with America staring scarcely fathomable fiscal and monetary folly in the face, illegal immigration is barely on the stove, let alone the front burner. If America defaults on its debt and its creditors stop propping it up, or if America loses is triple-A bond rating or the American dollar loses its status as a world reserve currency and/or when massive inflation kicks in, or when our already extravagant budget is flooded with the glut of Social Security and Medicare claims that is now on our doorstep, a lot of people who will be in a heap of trouble, will be amazed at how worked up they were over illegal immigration, if they remember it at all. If America has any hope of overcoming the disaster its gotten itself into, conservatives will need to have penetrated deep into the black and Hispanic populations with the conservative gospel.