Senators to Secretary Clinton: Backdoor Gun Ban Violates Americans' Constitutional Right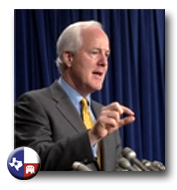 Wednesday, I led a bipartisan group of Senators including Senators Mike Enzi (R-WY), Tom Coburn, M.D. (R-OK), and others in sending a letter to Secretary of State Hillary Clinton, urging her to reverse the State Department's reported decision to ban the sale of surplus antique rifles from South Korea to qualified buyers in the United States. The letter was also sent to Attorney General Eric Holder and Acting Director Kenneth Melson of the Bureau of Alcohol, Tobacco, Firearms, and Explosives (BATFE).
Recent media reports indicate the Obama Administration inked a deal with the South Korean government to bring home nearly one million American-made WWII-era surplus military rifles. However, the State Department stepped in at the last minute and arbitrarily blocked the agreement. The rifles in question are the iconic M1 Garand and M1 Carbine rifles, which are popular among collectors and military historians. The letter to Secretary Clinton stresses that the sale poses no risk to Americans and the department's decision violates law-abiding citizens' constitutional right to purchase firearms for legitimate purposes. The full text of the letter is below:
Dear Secretary Clinton:
We write today out of serious concern regarding recent reports indicating the State Department—in conjunction with the Department of Justice and the Bureau of Alcohol, Tobacco, Firearms, and Explosives—has arbitrarily chosen to ban the sale of surplus M1 Garand and M1 Carbine rifles from South Korea to qualified buyers in the United States. We strongly urge you to reverse this decision.
According to recent reports, although the Obama Administration had approved the sale of these vintage, American-made rifles last year, your Department chose to reverse the decision because the firearms "could potentially be exploited by individuals seeking firearms for illicit purposes." A spokesman for your Department went on to say, "We are working closely with our Korean allies and the U.S. Army in exploring alternative options to dispose of these firearms." This decision amounts to no more than a backdoor gun ban that lacks any basis or justification under current Federal law and policy. This decision violates law-abiding citizens' constitutional right, protected under the Second Amendment, to purchase these firearms for legitimate purposes such as target shooting, hunting, collecting, and self-protection.
As you may know, the M1 is the rifle that helped our American troops claim victory in World War II. In Korea and Vietnam, our troops went into battle armed with this rifle that in the words of General George S. Patton, "is the greatest battle implement ever devised." Today, the M1 is lawfully used by American citizens for recreational activities and is also a highly collectible firearm for those interested in American history.
Furthermore, according to the Bureau of Alcohol, Tobacco, Firearms, and Explosives Guidebook on Firearms Importation, it is legal to import M1s because they are more than 50 years old and therefore qualify as "curios or relics." Moreover, any individual wishing to purchase one of these firearms would be subject to the National Instant Check System. Essentially, the sale of these historic rifles—each a piece of America's proud history—pose no greater risk than the sale of any other firearm legally sold in the United States.
To this end, we request an explanation of your reasons for blocking the importation and sale of American-made rifles from South Korea, and we strongly urge you to reverse your decision in the interest of protecting Americans' Second Amendment rights. Furthermore, we encourage you to consider utilizing the Civilian Marksmanship Program (CMP) as a means for the sale of these rifles. Currently, the principal rifles sold today through the CMP—a federally chartered non-profit organization dedicated to training and educating U.S. citizens in the responsible use of firearms—are World War II-era M1 Garand rifles.
Thank you for your prompt consideration of this matter.
Sincerely,
John Cornyn, United States Senator
Mike Enzi, United States Senator
Tom Coburn, United States Senator
Jon Tester, United States Senator
Richard Burr, United States Senator
James Inhofe, United States Senator
Judd Gregg, United States Senator
Mike Crapo, United States Senator
John Barrasso, United States Senator
John Thune, United States Senator
Roger Wicker, United States Senator
Bob Bennett, United States Senator
Lisa Murkowski, United States Senator
Mark Begich, United States Senator
Jeanne Shaheen, United States Senator
Chuck Grassley, United States Senator