Texas Judicial Races - Strong Conservatives Win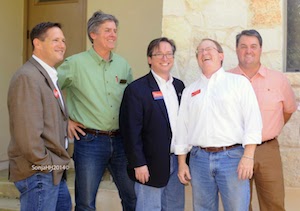 On October 18th the Republican Club of Comal County had the distinct pleasure of hosting its 5th Annual Fundraiser with some very special speakers seeking judicial benches. The statewide nominees were Justice Jeff Boyd for Texas Supreme Court Place 7, Judge Bert Richardson Court of Criminal Appeals #3, David Newell Court of Criminal Appeals #9, and Kevin Yeary Court of Criminal Appeals #4. With the exception of now Chief Justice elect Jeff Rose 3rd Court of Appeals which includes Comal, Hays and 22 other counties.
It isn't every day that such distinguished and serious minded individuals gather to discuss conservative values and actually have fun doing it. Each showed a sense of humor and each exhibited their bona fide conservative values. Each speaker gave an enlightening overview of their qualifications and a passionate plea for votes. The emphasis was on the importance of electing good, strong principled judges in order to maintain the integrity of our judicial system.
Nathen Hecht was reelected as Chief Justice of the Texas Supreme Court as were Jeff Brown Supreme Court Place 6 and Phil Johnson Place 8. Sandee Bryan Marion was elected as the Chief Justice 4th Court of Appeals which includes Bexar, Kendall and 30 other counties. Bexar County nominees that I endorsed were all either reelected or elected. I will say that Lisa Jarrett, Sol Casseb and Lori Valenzuela have been on the bench and were very well supported. Bexar County also welcomed back Steve Hilbig a very qualified jurist and will prove to be an enormous asset.
LORINA RUMMEL: 144TH JUDICIAL DISTRICT (reelected 53.54%/46.46%)
RENEE McELHANEY: 150th JUDICIAL DISTRICT (reelected 54.05%/45.95%)
STEVE HILBIG: 187TH JUDICIAL DISTRICT (elected 52.88%/47.12%)
LISA JARRETT: 436TH JUDICIAL DISTRICT (reelected 56.38%/43.62%)
SOL CASSEB: 288TH JUDICIAL DISTRICT (reelected 56.82%/43.18%)
LORI VALENZUELA: 437TH JUDICIAL DISTRICT (Unopposed)
I enjoyed very much getting to know the newly elected judges to County Court at Law #13 and #14. I also found that they too had a great sense of humor. Their knowledge of the law and prosecutorial experience will certainly strengthen the Bexar County judiciary.
CRYSTAL CHANDLER: COUNTY COURT AT LAW 13 (elected 52.78%/47.22%)
SUSAN SKINNER: COUNTY COURT AT LAW 14 (elected 52.69%/47.31)
David Glickler from Hays County took on an incumbent and was elected to County Court at Law #2. Congratulations to these fine men and women who will sit on the bench defending our laws and constitution, thereby protecting the rights of Texans to be heard in a court of law. One thread that I found in common with candidates that I was so fortunate to get to know was that family plays a big role in their lives.
On the suggestion of the five No Votes, one was not elected and three won by a very narrow margin. In case you are interested in knowing how the Liberal Express News endorsed and how the electorate voted in Bexar County, the links are provided at the end of this article. RED SONJA2014©
Pray, Fight, NEVER GIVE UP!
3rd Court of Appeals
http://www.txcourts.gov/3rdcoa
4th Court of Appeals
http://www.txcourts.gov/4thcoa
BEXAR COUNTY RESULTS
http://home.bexar.org/el45a.ht
Our Recommendations
http://www.mysanantonio.com/opinion/editorials/article/Our-recommendatio...
RED SONJA'S JUDICIAL ENDORSEMENTS & NO VOTES for the 2014 NOVEMBER ELECTION