Photographers Left Sightless by Obama
Being a photographer for most of my life, I well understand the outrage the photojournalists feel toward the Obama Administration. Photojournalists have been 'locked out' from going to the White House and official events to photograph the president during functions. It seems the photojournalists are at last feeling the 'power' pinch which is not in their favor. They should have known this was coming with Obama promising transparency and delivering none.
It's been said that a photograph can speak a thousand words because in one instant, we can visualize and understand the situation the photograph depicts. It is also of the upmost importance to photographically record the events for historic significance. The Chief Photographer at the White House, Pete Souza, has been diminished to posting approved photographs on social media immediately after a function. These same photographs are then distributed to the press to use, completely bypassing the photojournalists.
The Obama Administration's efforts to ban photographers from being present at White House functions clearly show that the administration wants to screen what comes out of the White House or other official events. Obama is a public official, and the American people are entitled to see Obama performing his official duties. Past presidents have not denied the press photographers from attending functions until Mr. Community Organizer came into office. Since his presidency, Obama has let the photographers in the Oval Office only twice in 2009 and 2010.
Deputy spokesman, Josh Earnest commented that the new technology has made it easier to access the president and events in the White House, meaning that only 'insiders' are given these privileges. Earnest commented, "But to the American public, that is a clear win." It is definitely not a win for the American people. How can it be if the staff images are controlled by the administration and the photojournalists are not permitted to attend? It is also a known fact that the administration hires private photographers and videographers who can also be controlled.
Photojournalists capture the moment forever. Each photographer can witness the same event but will focus on what he observes giving us a full spectrum of the incident. Speaking from experience, when I worked for the city of San Antonio, there were occasions when I was asked to make sure that the subject I was to photograph would look good or not so good. One instance in particular, a site was under construction and I was asked to make it look clean and completed. So I did. There are many ways a photographer can enhance or not an image without the use of Photoshop. But then again we are talking about this White House.
Most importantly, by depriving the photojournalists from attending events, the American people will never know who actually was in attendance, what they did or who mingled with who. These circumstances can certainly be manipulated. This is exactly why the photojournalists are outraged.
"To be clear – we are asking to be allowed consistent, independent access into the room when the President signs legislation, greets visitors of note, or otherwise discharges his public duties." Santiago Lyon: AP vice president and director of photography Associated Press
This is the letter that was sent to Jay Carney from different news organizations expressing their discontent. It's interesting to see who signed the letter objecting to their First Amendment 'Rights'. So what took the photojournalists so long to protest since this isn't a new issue with the Obama Administration. Who muzzled them? What took them so long to write this letter? I guess Obama's puppets finally got tired of eating crumbs from his table.
November 21, 2013
Jay Carney
Press Secretary
The White House
VIA HAND DELIVERY
Dear Mr. Carney:
We write to protest the limits on access currently barring photographers who cover the White House. We hope this letter will serve as the first step in removing these restrictions and, therefore, we also request a meeting with you to discuss this critical issue further.
Journalists are routinely being denied the right to photograph or videotape the President while he is performing his official duties. As surely as if they were placing a hand over a journalist's camera lens, officials in this administration are blocking the public from having an independent view of important functions of the Executive Branch of government. To be clear, we are talking about Presidential activities of a fundamentally public nature. To be equally clear, we are not talking about open access to the residence or to areas restricted, for example, for national security purposes.
The apparent reason for closing certain events to photographers is that these events have been deemed "private." That rationale, however, is undermined when the White House contemporaneously releases its own photograph of a so-called private event through social media. The restrictions imposed by the White House on photographers covering these events, followed by the routine release by the White House of photographs made by government employees of these same events, is an arbitrary restraint and unwarranted interference on legitimate newsgathering activities. You are, in effect, replacing independent photojournalism with visual press releases.
All of the following events, with the exception of the McCain-Graham meeting, were reported as "read-outs" by the White House with "official" White House photo(s) attached. They illustrate the troubling breadth of the restrictions placed upon newsgathering by the White House to record governmental activity of undisputed and wide public interest:
On July 10, 2013, the President met with members of the Congressional Hispanic Caucus. 
On July 11, 2013, the President met with the Co-Chairs of the U.S. - China Strategic and Economic Dialogue. 
On July 29, 2013, the President met with former Secretary of State Clinton (White House photo also distributed via Twitter). 
On July 30, 2013, the President and Vice President met with Israeli and Palestinian negotiators. 
On August 26, 2013, the President met with African-American Faith Leaders. • On September 2, 2013, the President met with Senators McCain and Graham. 
>On October 11, 2013, the President and family members met with Pakistani human rights activist Malala Yousafzai, a person of great public interest.
While certain of these events may appear "private" in nature, the decision of the White House to release its own contemporaneous photograph(s) suggests that the White House believes these events are, in fact, newsworthy and not private.
The right of journalists to gather the news is most critical when covering government officials acting in their official capacities. Previous administrations have recognized this, and have granted press access to visually cover precisely these types of events, thus creating government transparency. It is clear that the restrictions imposed by your office on photographers undercut the President's stated desire to continue and broaden that tradition. To exclude the press from these functions is a major break from how previous administrations have worked with the press.
Moreover, these restrictions raise constitutional concerns. As the Supreme Court has stated, the First Amendment protects "the public and the press from abridgment of their rights of access to information about the operation of their government," Richmond Newspapers Inc. v. Virginia, 448 U.S. 555, 584 (1980). The fact that there is no access whatsoever only heightens those concerns. As one court has noted in considering a similar restriction: "The total exclusion of television representatives from White House pool coverage denies the public and the press their limited right of access, guaranteed by the First Amendment of the Constitution of the United States." Cable News Network, Inc. v. American Broadcasting Companies, Inc., et al. 518 F.Supp. 1238, 1245 (N.D. GA 1981).
The organizations and individuals signing this letter strongly believe that imposing limits on press access, as your office has done, represents a troubling precedent with a direct and adverse impact on the public's ability to independently monitor and see what its government is doing.
We consider this a most serious matter and urge you to provide appropriate access for independent photojournalists to all public governmental events in which the President participates.
Again, we see this letter as the first step toward restoring full press access to these events.
Accordingly, we request an immediate meeting with you in order to resolve this very serious situation. We ask that you contact Steve Thomma, President of the White House Correspondents' Association, and Sam Feist, current television pool chair, to set up the meeting.
Thank you
ABC News
Agence France-Presse
American Society of News Editors
American Society of Media Photographers
Associated Press
Associated Press Media Editors
Associated Press Photo Managers
Association of Alternative News media
Association of Opinion Journalists
Bloomberg News
CBS News
CNN
Dow Jones & Company, Inc.
Fox News Channel
Gannett Co., Inc.
Getty Images
Lee Enterprises, Incorporated
The McClatchy Company
McClatchy-Tribune Information Services
National Press Club
National Press Photographers Association
NBC News
New England First Amendment Coalition
News Media Coalition
Newspaper Association of America
The New York Times Company
Online News Association
Professional Photographers of America
Radio Television Digital News Association
Regional Reporters Association
The Reporters Committee for Freedom of the Press
Reuters
Society of Professional Journalists
Tribune Company
The Washington Post
White House Correspondents' Association
White House News Photographers Association
Yahoo! Inc.
In June of 2010 after the BP oil spill in the Gulf of Mexico, there were some conflicting orders about allowing the press to enter the area. Admiral Thad Allen told Jake Tapper from CNN, "I put out a written directive and I can provide it for the record that says the media will have uninhibited access way where we're doing operations, except for two things, if it's a security or safety problem. That is my policy. I'm the national incident commander." Instead the press was met with strict restrictions prohibiting the press from the BP oil spill and direct permission from the Coast Guard was necessary. Obama does not believe in the 1st Amendment, Freedom of Speech, Freedom of Expression, as he proves that over and over with his actions.
The two photographs with Presidents John F. Kennedy and George W. Bush were captured by photojournalists to be remembered forever. The most photo-opt and most inappropriate president, as proven by the last two images, is of course Obama.
Stanley Tretick/Look Magazine
PAUL J. RICHARDS/AFP
ROBERTO SCHMIDT/AFP/Getty Images (Mandela Memorial)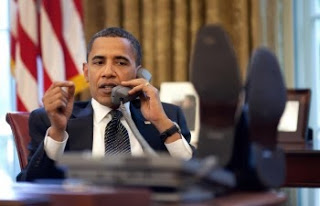 White House Photo by Pete Souza 2009
As a blogger and photographer it should be my choice what I write and what I photograph. In time the images I have captured will have historic value. Photographs help us remember our loved ones and remind us of our past, otherwise our memory fades. Let's fight to keep our 1st Amendment, so much depends that we do!
RED SONJA 2013©
PRAY, FIGHT, NEVER GIVE UP!
WHITE HOUSE PHOTOS
http://www.flickr.com/photos/whitehouse
AP calls for greater White House access in New York Times op-ed
http://blog.ap.org/2013/11/21/ap-and-other-news-orgs-call-for-greater-white-house-access/