Meet Cherie Perez Campaigning For Comal County District Clerk
Comal County, a Texas Republican stronghold, has an opportunity to elect its first Hispanic Republican countywide candidate this primary for District Clerk, Cherie Perez. Cherie has the support of the current District Clerk Kathy Faulkner. In fact, Kathy sent me an endorsement to share with my readers.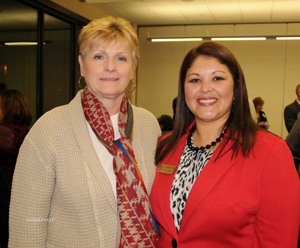 Cherie has worked in the District Clerk's Office for 15 years, under job roles of Civil Deputy Clerk, Child Support Clerk, Civil Supervisor and promoted to Office Manager in 2008. She has valued experience in the operation of this office, the current employees, and relationships with other county officials, and various organizations throughout Comal County and the State. Over the years Cherie has regularly accompanied me to training seminars, conferences and local Republican Women Club meetings. Cherie has also volunteered many hours of service to organizations in our County. She is vastly educated in what the requirements are to be District Clerk for Comal County. And I am truly honored to endorse Cherie in her upcoming campaign.
I met Cherie earlier in 2013 and found her to be very positive about willing to assume the duties of District Clerk. She reinforced this by telling me that she has never been afraid of taking on new responsibilities. She told me she is very comfortable in her career selection and happy and appreciative to be endorsed by her boss Kathy.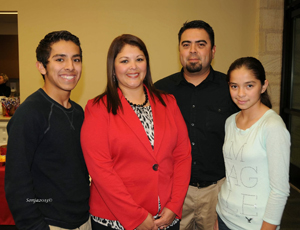 When asked about her decision to run for District Clerk she replied, "Because I have worked very hard from the bottom up and have always felt confident that I can do the work assigned. I will be a very well experienced district clerk."
Cherie is a hometown girl having lived in New Braunfels most of her life and is a graduate of New Braunfels High School. She is married to Rueben and has two children Isaac and Brianna, who also attend New Braunfels High School.
She is a member of the New Braunfels Republican Women's Club and an associate member of Canyon Lake Republican Women's Club and Bulverde Area Republican Club. Cherie is also a member of the Comal County Hispanic Council.
The Comal County Democrat Party is circling the wagons you might say as they are aggressively seeking the Hispanic vote. Robbi Boone, Democrat Party Chairman, is running an ad in the popular La Prensa newspaper. The population in Comal County is an estimated 127,305 residents with 89.46% white 24.88% Hispanic and 1.59% Black. It's time Comal County elects a Republican Hispanic. Cherie is a qualified woman who will make Comal County proud.
RED SONJA 2014©
PRAY, FIGHT, NEVER GIVE UP!
COMAL COUNTY POPULATION DEMOGRAPHICS
http://www.usa.com/comal-county-tx-population-and-races.htm