NumbersUSA attacks Senator Cornyn!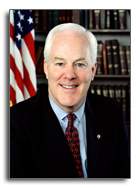 It doesn't take much for anti-immigration group NumbersUSA to get their knickers in a twist. When they got word that Texas Senator John Cornyn (who has a lifetime American Conservative Union rating of 92.00) was attending Thursday's White House meeting on immigration reform, Roy Beck with Numbers USA fired off an angry blast email calling on recipients to jam the Senator's office phone lines.


Senator Cornyn's purported offense? According to Beck, the Senator has made "incredibly frightening pro-amnesty statements lately." Wow. What are those statements? Beck fails to mention them. Back in April, Cornyn had this to say:
I congratulate President Obama for his announcement last week to address comprehensive immigration reform this year, and I share his commitment to addressing this much needed issue. Having introduced with Senator Jon Kyl the Comprehensive Border Security and Immigration Reform Act of 2005, I have long believed this is an important national priority. I look forward to seeing the President's proposal and stand ready to work with him and my Senate colleagues to produce legislation that represents the best interests and best aspects of America, including our national and economic security, and restoring respect for the law.
As the ranking Republican on the Judiciary Committee's Immigration, Refugees and Border Security Subcommittee and a border state senator, I know how complex immigration reform can be. The Chairman, Senator Chuck Schumer of New York, I am advised, plans to hold hearings on this subject within the next few months. I look forward those hearings and working with all of my colleagues to pass legislation that will provide balanced, common-sense solutions that secure our border, and restores our broken immigration system to sound legal footing.
These are the "frightening pro-amnesty statements?" Seems to me that these are the statements of a Senator (from a border state, no less) doing his job.
Our immigration system is broken and needs to be fixed, but it is people like Roy Beck and groups like NumbersUSA who are standing in the way of the solution!
They are not concerned about illegal immigration, they want ALL immigration to stop. Check out Roy Beck's famed "gumball" presentation! In it he also makes it clear that he is OK with U.S. support for "family planning" (i.e., abortion) to reduce population growth in third world countries. I am sure Planned Parenthood agrees. It is a real shame that the views pushed by Beck and his group have been accepted by so many in the GOP. Are his principles really consistent with conservative Texas GOP principles?
Beck's email also warns Cornyn against committing "political suicide." Folks, take a look at this report and tell me who is committing political suicide. 2008 provided a great test case for the "enforcement only" proponents, here are some highlights:
In 60 districts, candidates' immigration positions were clearly distinguishable as more or less restrictive. Less restrictive candidates won more frequently, particularly in contests where partisan control shifted.
In 50 competitive contests, a Republican carried an "enforcement only" message against a less restrictive Democrat. Democrats won 34 of these seats (68%); Republicans, 16 (32%).
In 21 of these 60 districts, party control shifted as a result of the election. The less restrictive candidate won 19 of these contests (90%). All 19 were Democrats.
The immigration positions of winning Republicans were, on average, less restrictive than the immigration positions of GOP losers.
So, not only is Beck and NumbersUSA anti-immigrant, anti-population growth shtick inconsistent with traditional GOP values, it's also an electoral stinker. What a combo, huh?
Want better border security? I do. Want to fix the immigration system? I do. So, why not offer Senator Cornyn an opportunity to do that instead of calling him and his dog "amnesty-lovers" the minute he shows the guts to take on immigration reform? Just a thought.