Five Priorities for the Texas Legislature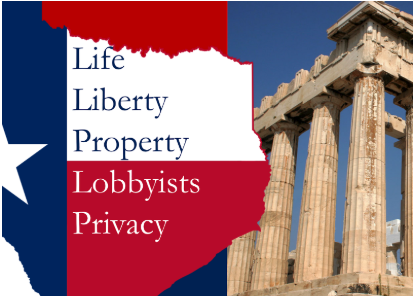 Mark Twain famously quipped, "No man's life, liberty, or property are safe while the legislature is in session."1
Texas' 86th Legislature has formally opened for business. As you may know, the Texas Legislature only meets every other year and for only 140 days. This year, your Republican Party of Texas (RPT) is championing improving protections of Twain's life, liberty and property. Additionally the party selected ending taxpayer-funded lobbying (where local taxing authorities hire paid contract Travis County professional lobbyists, usually working against the taxpayers), and privacy issues.
The Legislative Priorities Committee of the SREC was created to advance the five top issues identified and overwhelmingly approved by delegates at our State Republican Convention this June in San Antonio. These are listed on the attachment and are available online here. A "bullet point" list of them includes:
Constitutional Carry (of firearms, per the 2nd Amendment)
END Taxpayer Funded Lobbying
Pro-Life (additional protections and abolition)
Abolish Property Tax for Maintenance and Operations of School Districts and REPLACE with a sales tax based system
Religious Freedom for churches, pastors, business owners, individuals and protecting the privacy of women & children in showers, changing rooms, and the like.
I invite each of you reading this you to publicly share your support of these five priorities and consider what you might do to help. Social media. Email you legislators. Call your legislators. Testify in Austin. Visit with your Texas Representatives and Senators, either in your District (they are usually in town Thursday evening through Tuesday morning.) Talk with your friends about doing the same..
How to get started? What to do next? Please start by signing up for timely updates and tools from the RPT Strategic Texas Activist Team--STAT for short--here. We are well over 1000 strong and growing fast! If you join, this is for STAT related items only--separate from the general RPT emailing list, (i.e. no fundraising letters from this list.)
Less well known that Twain's quote is one from 500 years before Christ by Plato. "One of the penalties for refusing to participate in politics is that you end up being governed by your inferiors."2
Please get involved! Today. Read more here.
[Editor's Note: Mr. Ramsey Chaired the 2018 Republican Party of Texas Convention Platform and Resolutions Committee, and currently serves on the SREC as Chair of the Legislative Priorities Committee.]
---
1Mark Twain, Selected Writings of an American Skeptic. ISBN 0879751908.
2https://www.brainyquote.com/quotes/plato_101112