Chairman Dickey is Working Towards a Texas Victory in November, 2020 - West Continues to 'Message'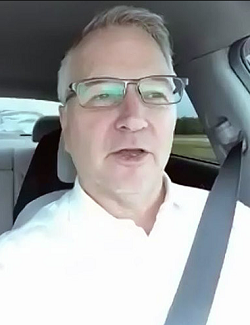 Texas is working its way out of the fog, from the 'panic' pandemic, and will hopefully see a clearing by the end of May.  This great state has got to survive and bring the economy back and stand in its proper place in the economic field.  Texas is the second largest economy in the United States and the 10th largest in the world.  

If Texas is to survive then Texans must unite to bring a Red victory in November.  Republican Party of Texas Chairman James Dickey is the right person to bring this victory to fruition.  To win in November the delegates to the state convention in July must reelect James Dickey.

He, his staff and the army of volunteers have been working towards this goal since 2018.  It would be disastrous to bring all this hard work to an abrupt stand.   His challenger Allen West who is seen by some as the messiah has accomplished nothing to bring victory to Texas.  His abilities are in 'messaging' to the masses for celebrity status and his actions are writing his history books.  He is proving that this is where he should be, in the public eye.

There are some who actually believe that West is a 'fiscal' conservative.  Not so from his tenure as a congressman in CD22 in Florida.  He failed to be reelected for a second term in congress even though he had reaped a historic treasure chest of $17 million and lost to his Democrat opponent Patrick Murphy.   How did he spend the $17M, obviously it was not enough or not well spent.

It seems that West enjoys the freedom to spend other people's money, like the taxpayers. If the Texas Delegates believe that he is going to be frugal with the money that Dickey has worked so hard to accumulate, $4.8M think again.  

Freedom Works who focuses on fiscal responsibility gave West a 60% in 2012. 

While in Congress West voted:

Against H. Amdt 1431 to H.R. 5856 - To cut $1.07 billion from Department of Defense Appropriations exempting military pay and benefits from any cuts.

Against H. Amdt 1039 to H.R. 5326 to eliminate the Economic Development Administration

Against H. Amdt 45 to H.R. 1 that would have saved taxpayers $100 million

Against H. Amdt 111 to H.R. 1 that would have reduced discretionary spending to 2008 levels and cut $18.6 billion

Against H. Amdt 167 to H.R. 1 to cut don-defense discretionary spending to 2006 levels

Against On Agreeing: H Amdt 397 to H.R. 2017 to reduce spending of the legislation by 10%

Keep in mind that he came to Texas to solve the situation with the now defunct National Center for Policy Analysis in Dallas.  West was not able to steer this center from crashing and the money raised couldn't keep it afloat.  Again how was the money spent?

Old habits die hard they say and if you follow West's fiscal trajectory you can see how he is definitely not a person of frugality.   

In West's Financial Report, January 15, 2020, there are some troubling signs.  First and foremost most of his contributions are not from Texas but from other parts of the country like California, Virginia, and Michigan all very progressive states.  What business do these BLUE states have to do with RED Texas?   His total contributions were $489,755.06.

West pays his campaign manager, Lisa Hendrickson, a handsome amount of $6,111.11 per month.  It is interesting to note that she does not drive when travelling but flies the sky to get to her Texas destinations.  Apart from having a campaign manager, West also has a 'Scheduler for Allen West Republican Chairman Campaign'.  We should be curious as to why he doesn't schedule personally or have his campaign manager perform these duties.

What I noticed from the report was that he doesn't always hire local to do his advertising.  His social media services 'WEST4TEXAS' CAMPAIGN money goes to someone in San Jose, California.  He also dishes out money to a Strategies Company in Siler City, North Carolina for fundraising consulting.  Also listed as expenditures is a management company to assist with 'Bookings and Consulting' and another advertising expense to a company in Alexandria, Virginia for 'email deployment and monthly retainer'.  These expenditures seem extravagant.  In one month alone he spent over $13,000 in these four endeavors.  So in one year this amount is substantial.   West is using these services so he can topple a state chairman who has been working hard to make money so that Texas is victorious in November.  

Ask yourself, how much money has West raised for the Republican Party of Texas?  How many volunteers has he gathered for the Republican Party?  What actions has he taken to grow the Republican Party?  Absolutely none at all.  He relies on his 'message' in his self-promotion appearances on different shows to sell his 'product', his books, and then BTW I'm running for Texas Republican Chair.  


Other expenses that seemed extravagant were $200.00 for 'Makeup' for broadcast spots and a very curious expenditure $424.00 to NT Eagle Limo & Transportation to drive him from 
Buc-ee's Madisonville to Garland, Texas which according to a map is 157.3 miles taking two hours 19 minutes via I45N.  I guess he doesn't like to drive?  His 'In Kind Donations' from Boussard, Louisiana are more ostentatious, $10,500 for use of a jet from Addison to Galveston to Austin to Addison, Texas.  Also a Texas $12,000 for food and beverage, venue and host.      

Since these expenses are on the 'Political Expenditures from Political Contribution', IF in fact he cared about the Texas economy he would make sure he is helping Texas vendors.  RPT uses Texas vendors.      
 
West's self-indulgence is in full display on the cover of his book Guardian of the Republic, I should add that West has done exceptionally well as an author and we should encourage him to continue in this chosen path.  Chairman of the Republican Party of Texas requires actual work, for someone to get to the tenacious and realistic business of meeting people, recruiting volunteers and candidates to run for office, fundraising and making sure that the money is spent in a responsible and productive way.  The money that Chairman Dickey and his staff have raised are not for self-promotion but to bring victory in Texas in the November election. 

The contrast is significant between the West report and the Dickey report.  Dickey's total political contributions were $17,648.55 and the people he works with to help him in his reelection campaign are all from Texas. 

He has a volunteer staff that has been tirelessly working on growing the party through voter registration and phone banking.  Dickey's early acknowledgement to begin fundraising so that there would be enough for a party victory in November has paid off, despite the pandemic.  His candidate recruiting team has done an excellent job.  Case in point, there is a Republican challenging the judge in Dallas who put Shelley Luther in jail and her name is Jessica Lewis.  Now the people do have a choice in November.  What has West done on this?  He has become an 'ambulance chaser' or maybe his paid staff has.  West interviewed Ms Luther on May 4, interesting how he has a need to follow the news, he truly is an author at heart.  Shouldn't he stay where he enjoys receiving the spotlight?  Changing horses in mid-stream is NOT a good idea since the state convention is only three months before the November election.

Chairman Dickey must remain the head of the Republican Party in Texas for a consistent and smooth victory in November.  Attend your County Convention and become a #teamdickey delegate.  If you love Texas and want Texas to stay RED, register to attend the state convention in July.  Do your part Vote Dickey in July, 2020.  Keep Texas Red!
 
RED REPORT ©
RED SONJA
Fight, NEVER GIVE U