What the Media Ignores –Donald Trump Jr. in San Antonio, TX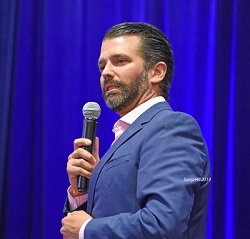 Donald Trump Jr was in San Antonio, Texas on Tuesday, October 15, 2019 at the Henry B Gonzalez Convention Center after a change of venue from Sonterra.  Kimberly Guilfoyle senior advisor to President Trump and Katrina Pierson campaign senior advisor took the stage prior to Trump Jr.  Also rallying the troops was Brad Parscale, a very impressive figure at 6ft 8in, President Trump's 2020 campaign manager.   Parscale served as the digital media director in Trump's 2016 winning campaign and from all indications he intends to win again, another four years.

Parscale told the approximate 1,000 supporters that, "In 2016 a neighborhood team leader increased turnout for their candidate by 15%.  So we had 3,000 of those in 2016.  I want 90,000 of those in 2020."  Parscale didn't mince words when he said, "This time the Democrats know that President Trump can win."  He also said that we needed to make two million voter contacts this time and that, "we can do it."  The crowd responded by chanting, "Four More Years!" 


This was no ordinary rally, this one was meant to pierce the soul, to wake up the voters.  Trump Jr told the audience that in 2016 my father said something very serious, "What do you have to lose?"  "He was right, so America you gave him a chance and he has delivered on those promises.  And now what do you have to lose?" Asked Trump Jr.  "A lot!"  The Democrats are the party of dependents.  They need you to be dependent on them.  "They are pushing socialism, they are pushing this craziness."  He spoke of his mother, Ivana Trump, who escaped from a communistic Czech country.  He told stories of his youth with his grandfather and what he learned when he went to visit in Czechoslovakia, "I saw what that system does to good hard working people."

Trump Jr's speech was not only inspiring but spirited and funny.  The laugher from the supporters was an added welcome to a very nasty Democrat campaign against President Trump.    

There were two beautiful women on stage speaking to the enthusiastic crowd, Pierson and Guilfoyle.  Who says President Trump doesn't give jobs to women, minority women.

Guilfoyle was stunning in her black dress and high heels.  She did an excellent job in rousing the audience.  "This president has literally transformed this country."  She continued, "not only has he made America Great Again but thanks to President Trump and the Trump family we are going to Keep America Great."  She told the crowd that there is only one cure for Trump Derangement Syndrome, "and that is four more years."  The supporters loved it and once again chanted, "Four More Years".

'Crickets' from the local and national media.  In fact, the liberal Express News tried to give   the rally a black eye by giving it the title, "In San Antonio, Trump Jr. mocks Democratic debates:  'Reasonable people are seeing crazy'.  Also in the article the word 'attack' was used.   Interesting, since the Democrats were debating and attacking President Trump, the constitution and all that is sacred to the Christians this very night.  The media just cannot be honest or for that matter nonpartisan.   
 
The Rally started on time, 4:30pm and ended approximately just before 6:00pm.  The supporters just couldn't get enough. It's time for voter registration, bumper stickers and yard signs.  More importantly time to bring in neighbors and friends to volunteer for "Four More Years."
 
THE RED REPORT©
RED SONJA
Fight, NEVER GIVE UP!